Smart makes traveling easier and cheaper on data costs with the Smart RoamFree App… all you need to do is download the app and get free access to 21 applications to make your travels easier and hassle free.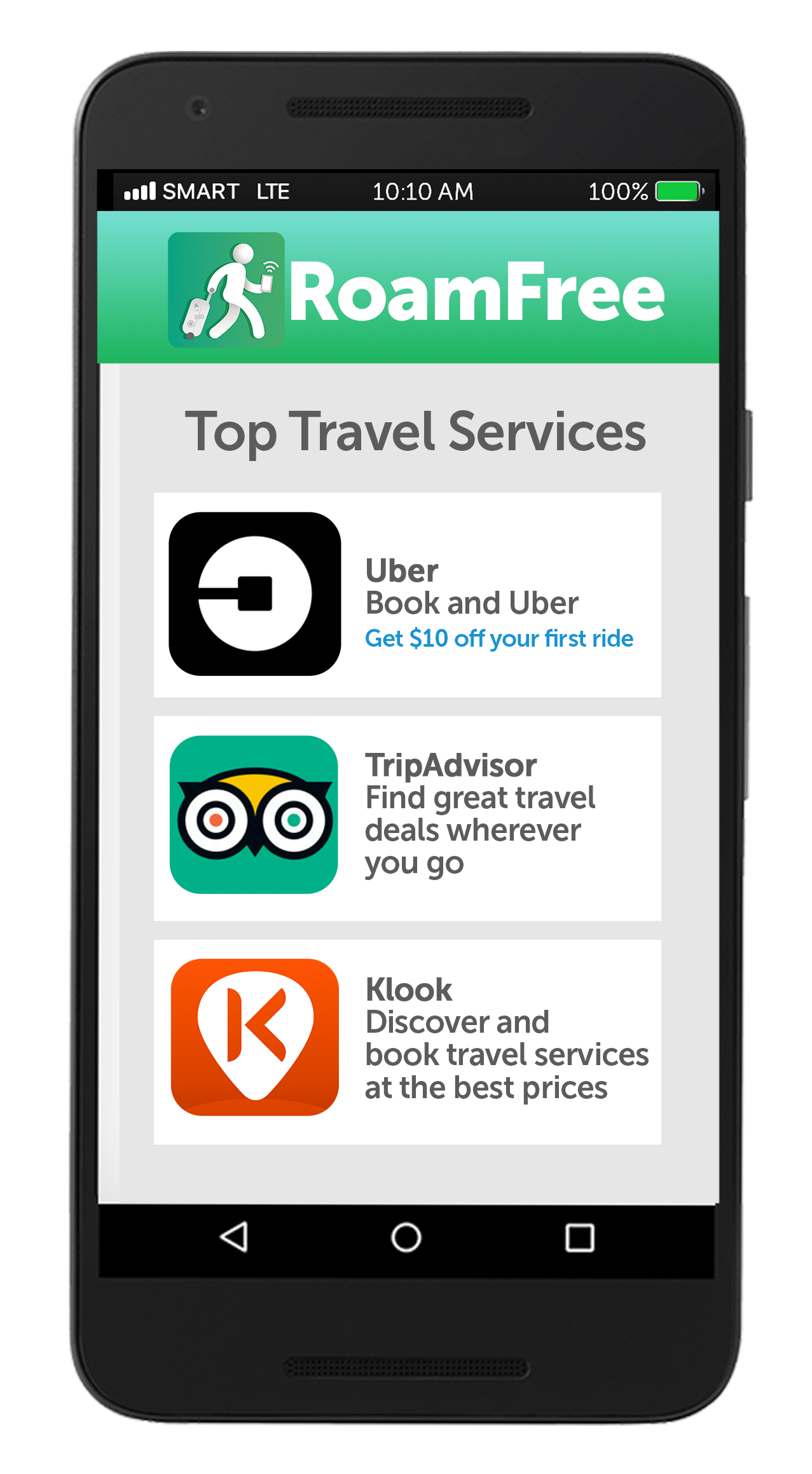 And by free.. it means free.. you dont even need to subscribe to a data plan when you are abroad. Here are some apps you can access for free.
You can use the RoamFree app in the following countries, United States, Australia, Canada, China, Hong Kong, Macau, Japan, Singapore, Thailand, Taiwan, and United Kingdom. It is also accessible for free in Indonesia, Malaysia, Vietnam, Cambodia, Albania, Czech Republic, Denmark, Finland, Germany, Greece, Ireland, Malta, Portugal, Romania, and the United Arab Emirates.
Uber
AirBNB
Agoda
 Booking
Google Maps
PassnFly
Musement
TripAdvisor
Triip
Meetup.com.
Klook
Tiqets
Foodpanda
OpenTable
TheFork
Groupon
KeyFlow
Viator
Google Translate
XE Currency Converter
ATM Finder.
 

"Staying online while traveling abroad makes for a hassle-free travel experience, but unfortunately, many travelers still choose to go offline out of fear of racking up enormous data roaming charges.  The RoamFree app addresses this by allowing you to freely connect to relevant content and services that make for a travel experience like never before," said Kat Luna-Abelarde, PLDT Global Corp. President and CEO.

"Working with key players in the digital travel space, we are able to deliver sponsored data to cater to the growing number of overseas travelers, and reinforce our thrust to connect Filipinos wherever they are. In the same way that we are expanding and improving our nationwide network, we are continuously enhancing our global services to give our subscribers  the best mobile experience  – whether they are in the Philippines or abroad," said Eric R. Alberto, Chief Revenue Officer of PLDT and Smart.
You can also top up and reload your mobile no with Smart World's innovative solutions is the Data Roam Manager, a one-stop portal that lets you buy data roaming packs, and keep track of your data usage while on the go.  Accessible to all Smart Prepaid and Postpaid subscribers traveling in over 130 countries, the  Data Roaming Manager pops up when you open your mobile browser, such as Google Chrome or Safari, after turning on your mobile data and data roaming.
To be able to use Facebook and other apps.. you can subscribe to GigaRoam, its biggest data roaming pack, providing 1GB data valid for 7 days for only Php999. Or use Surf Abroad that lets you enjoy 24-hour data roaming for a flat-rate of Php550 per day, while Chat Abroad, lets you stay connected to chat apps like Messenger, WhatsApp, Telegram, Line, WeChat, and Viber for only Php150 per day.
This communication is intended solely for the use of the addressee and authorized recipients. It may contain confidential or legally privileged information and is subject to the conditions in http://www.smart.com.ph/corporate/disclaimer.
Viewed 11246 times by 1324 viewers